My Nepenthe: Bohemian Tales of Food, Family, and Big Sur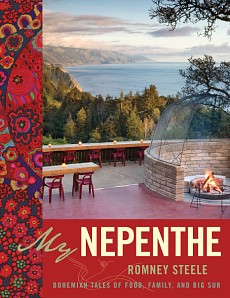 In these waning days of summer, blackberries are one of the last berries to be picked and savored. To be honest, they are my absolute favorites. And we are so honored to be able to share with you the recipe for blackberry jam from the lovely book, My Nepenthe: Bohemian Tales of Food, Family, and Big Sur, by Romney Steele.
This book came out in November of last year and I've been reading it and using its recipes all year. It's the memoir of a very special place, Nepenthe, a restaurant perched on a cliff overlooking the Pacific Ocean in California's Big Sur area. It's also a cookbook, with recipes from the restaurant and the family of author Romney Steele, whose grandparents opened the restaurant in 1949 and ran it until their deaths in the 1980s, when their children and grandchildren took it over.
I grew up in Monterey, CA, just up the coast from Big Sur, and Nepenthe was a staple of my childhood. My family and I would go there as a treat on spring and summer weekends. We'd eat lunch on the spacious terrace, all the while entranced with the spectacular view. I can attest to the specialness of the place and of the restaurant. There is something about both that is out of time and indescribable.
We are happy to have two recipes from the book to share with you. The recipe for simple blackberry jam is easy to make and can be used in a variety of ways. In the cookbook, the jam is used in Steele's family recipe for birthday cake. As someone with a birthday in December, a birthday cake layered with blackberry jam sounds absolutely divine to me-a reminder of summer in the middle of winter. But, you can make it whenever you get the urge for a light, simple cake.
Check out this book! With its fabulous stories and fun recipes, I promise that you will be enchanted.
SIMPLE BLACKBERRY JAM
MY FAVORITE BIRTHDAY CAKE

CAA Contributor Jeanne Sauvage is the editor of the CAA website. She is also an accomplished gluten-free baker and shares her recipes on her website, Art of Gluten-Free Baking.