My Favorite Birthday Cake
We are honored to have this recipe from My Nepenthe: Bohemian Tales of Food, Family, and Big Sur, by Romney Steele. The thing we love about it is that it uses her Simple Blackberry Jam, also from the book. It's always terrific to have recipes in which to use your home-canned jams!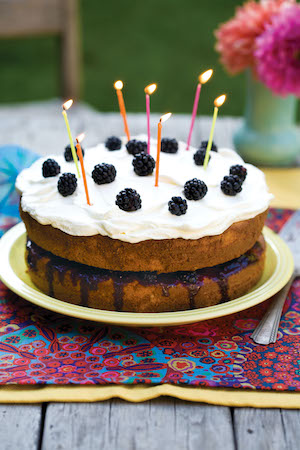 My Favorite Birthday Cake
This is a versatile cake, a recipe I've made for my daughter Nicoya's birthday every year since she was very young. It is based on a simple butter cake we made for Nepenthe's astrology parties. Fill it with fresh fruit, or jam and top with whipped cream as in the variation below, or simply dust with confectioners' sugar. You can also flavor the cake with orange or lemon zest or the seeds of a vanilla bean, or make it plain.
Makes 2 (8 or 9-inch) cakes, serving 12
3 cups cake flour, or 2 1/2 cups plus 2 tablespoons unbleached white flour
2 teaspoons baking powder
3/4 teaspoon salt
1 cup (2 sticks) butter, room temperature
1 1/2 cups granulated sugar
4 eggs, separated
2 teaspoons pure vanilla extract
2/3 cups milk
Preheat the oven to 350°F. Lightly butter and flour two 8- or 9-inch round cake pans.
Sift the flour with the baking powder and salt in a medium bowl. In a large bowl, beat the butter with a wooden spoon or electric mixer until light and creamy. Add the sugar and beat until fluffy, scraping down the side, about 5 minutes. Beat in the egg yolks one at a time, mixing well after each. Stir in the vanilla. Alternately stir in the flour mixture and the milk a little at a time, mixing well to combine.
Beat the egg whites in a clean metal bowl until they hold a soft peak. Whisk one-third of the egg whites into the batter. Fold in the remaining whites, stirring gently until just incorporated.
Divide the batter between the prepared pans. Bake for 30 to 35 minutes, until a toothpick inserted in the centers, comes out clean. Cool on a rack.
Variation: To make the jam cake, place one cake layer on a platter or large plate. Spread with 1 cup Simple Blackberry Jam or other preserves. Whip 1 cup heavy cream with 3 or more tablespoons sugar until soft peaks form. Whisk in 1 teaspoon pure vanilla extract. Spread whipped cream on top of the cake, serving any extra on the side. Garnish with fresh berries.