Tuna Salad with a Pickled Accent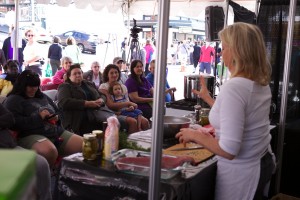 Seattle chef Diane LaVonne incorporating pickles into her grilled tuna salad.
As part of Can-It-Forward Day, three Seattle chefs led how-to demos on incorporating preserved goodies into your everyday cooking. Diane LaVonne, owner of Diane's Market Kitchen and a friend of CAA since the beginning, showed us  how you can zip up regular ole tuna salad with some home-brined cucumber pickles. She's pictured, above, under the tent at Pike Place Market, with a beautiful piece of Pacific Albacore tuna, which is now in season. The crowd loved her pickle-y spin, and she's dished up the details for this goodie, below.
Diane LaVonne's Tuna Salad (with a canned pickle-y twist)

Servings: 10
You can also make tuna cakes by forming the mixture into small patties (this can be done a day in advance and kept chilled). Heat a pan on high heat and add olive oil. Lightly dust the patties with flour and brown on both sides in the pan. Remember, this is for a textural element, the tuna has already been cooked until it's food safe. Serve warm with homemade tartar sauce.
Ingredients
1 pound tuna steak (Diane prefers Pacific Albacore, which is sustainably caught)
2 tablespoons red onion, minced
2 tablespoons fresh dill, minced
1 tablespoon capers, drained, minced
3 tablespoons dill pickle, minced (preferably from pickles you've canned yourself!)
1 tablespoon kalamata olives, finely chopped
6 tablespoons mayonnaise (Diane is a fan of Kewpie, a Japanese brand)
fresh lemon juice to taste
salt and pepper to taste
Method
Cut the tuna fillet into pieces about 1 inch thick. Heat a pan on the stove over high heat. Add enough olive oil to lightly coat the bottom. Pan sear the tuna on one side. (With fresh albacore this takes about 1 minute) then flip the steaks, lower the heat to medium, cover and cook until medium. (with fresh albacore this takes about 2 minutes)Cool and flake, combine with other dry ingredients. Add enough mayonnaise to bind the mixture together. Taste, adjust flavor with lemon juice, salt, or pepper if needed.
Per Serving (excluding unknown items): 71 Calories; 3g Fat (34.9% calories from fat); 11g Protein; trace Carbohydrate; trace Dietary Fiber; 17mg Cholesterol; 86mg Sodium. Exchanges: 1 1/2 Lean Meat; 0 Vegetable; 0 Fruit; 0 Fat; 0 Other Carbohydrates.