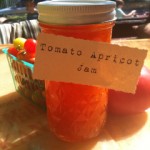 We are honored that Heather Earnhardt, the pastry chef and co/owner, with chef Ericka Burke, of the Volunteer Park Cafe in Seattle, Washington has shared this recipe with us.
Tomato Apricot Jam
2 pints of farmer's market mixed cherry tomatoes
1 lb apricots pitted and halved
2 cups granulated sugar
2 tablespoons olive oil
1 oz pectin (I use Pamona's Universal Pectin)
2 oz chopped shallot
Sterilize 8 – 6 oz pint jars and lids.
Sauté shallot in olive oil until somewhat transparent but not brown.
Add cherry tomatoes and sauté until they start to break down, about 6 minutes.
Add pitted apricots and simmer over medium heat until starting to incorporate.
Add sugar and pectin and continue simmering for 25-35 minutes or until temp reaches 220F.
Strain.
Ladle into 8 sterilized jars and seal.
Store in refrigerator.
Heather says, "I love this jam on the Parmesan Rosemary Scones that we make at the cafe."