We are honored that Chef John Besh has allowed us a sneak peek of four of his recipes from his soon-to-be-released cookbook, My New Orleans: The Cookbook (publishing Oct. 6, 2009). Recipes reprinted with permission from Andrews McMeel Publishing.
SUGAR PLUMS IN SYRUP
From My New Orleans: The Cookbook, by John Besh
Makes 8-pint jars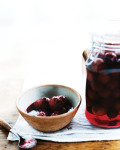 This is a very easy way to preserve sweet plums and then use them in many ways: I serve the tiny plums with everything from charcuterie to cheese and desserts, and I use the syrup in a vinegar-based fruit reduction as a sauce for poultry.
4 1/2 cups sugar
8-10 pounds sugar plums or other small plums
1. Put the sugar and 4 1/2 cups water into a large heavy-bottomed pot over high heat. Bring to a boil and cook, stirring constantly, until all the sugar has dissolved. Remove from the heat and set aside.
2. Pack the sugar plums into hot, sterilized pint jars. Ladle the hot syrup over the plums, leaving 1/4 inch of headspace. Wipe the rims of the jars clean, then place sterilized lids on top and screw on the rings.
3. Use tongs to put the filled jars into a canning pot; cover with water at least 2 inches over the jar tops. Bring to a boil and boil for 20 minutes. Use tongs to carefully remove the jars from the water; place on a kitchen towel. Allow the jars to cool completely before you move them.