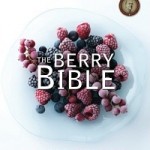 We are honored that Janie Hibler shared this recipe from her amazing book, The Berry Bible.
RASPBERRY CHIPOTLE SAUCE
3-4 cups fresh raspberries, rinsed and drained
2-3 chipotle chiles packed in adobo sauce plus another teaspoon of the sauce
2T fresh lemon juice
2 T pectin
3/4 c sugar
1-2 t unsalted butter
3/4 t baking soda
Heat a 3/4 to 1 pint bottle. Puree 3 cups of the berries with the chilies and sauce. You will need 1 and 1/2 cups puree; if you are short, puree more berries and add to the mixture until you have 1 and 1/2 cups.
Pour the puree and lemon juice into a large nonreactive pan. Add the pectin and mix thoroughly. Put the pan over high heat and bring to a full rolling boil, stirring constantly. Stir in the sugar, mix well and bring back once again to a full rolling boil. Stir in the butter and baking soda. If there is foam, it will disappear in a few minutes. Fill the bottle using a funnel, store in the refrigerator for up to one month or so.
Is this recipe appropriate for canning? I've been looking all over for a Raspberry Chiptole Sauce recipe to can.
This sounds fabulous! I am going to try it using blackberries.