The Nitty Gritty Dirt Farm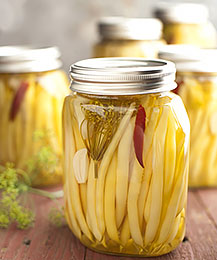 photo by Sara Remington
I knew I would love the Nitty Gritty Dirty Farm long before I saw it. How could you not? Its proprietors - a newly minted minister and a mandolin-playing music teacher - had found each other in midlife and set up housekeeping and farming in Harris, Minnesota. To a California gardener like me, farming in Minnesota sounds daunting enough. But for them to be living openly as a lesbian couple in rural Minnesota - not a red state, but close - must present its own little hurdles.
When I showed up at the farm, the table was set for lunch, with bandanas for napkins, jelly jars for water glasses, a bowl of homemade bread-and-butter pickles, and three kinds of homemade catsup. Robin brought her just-baked hamburger buns to the table, Gigi carried burgers in from the grill - from their own meat, of course - and the young farm interns, sweaty and dirty, gathered around the table and joined hands to say grace.
The yellow dilly beans didn't come out from their shelf in the crawl space under the farmhouse until lunch the next day, by which time I had learned that Robin - the minister - was a tireless preserver. On her bookshelf was a dog-eared and annotated copy of Putting Food By, but many of her recipes now reside in her memory. When you grow up on a Minnesota dairy farm and begin cooking at the age of nine, you know a thing or two about stocking a pantry.
I was visiting Robin and Gigi for a forthcoming book on eating locally. And boy, was I in the right place. These two eat almost nothing that doesn't come from their farm, including the maple syrup. Their dilly beans, when I made them, looked so pretty in the jar I almost hated to eat them. But they are just the right zippy complement to tacos from the taco truck, my favorite Saturday lunch.
Janet Fletcher, Canning Across America Contributor
Janet is a Napa Valley food writer and the author of Fresh from the Farmers' Market and the forthcoming Eating Local: The Cook's Companion from Land to Table, by Sur La Table with Janet Fletcher (Andrews McMeel, Spring 2010).