Canvolution in My Suitcase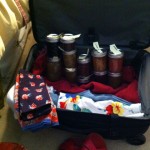 I packed my suitcase last month full of clothes I haven't needed in Austin, TX since February. In between all the layers Pacific Northwesterners told me to pack, I carefully stashed 11 jars of home-preserved thank you gifts to distribute on my two-week PNW book tour. (This of course meant I had to leave my second pair of cowgirl boots at home.)
My book tour has been such an adventure, propelled mostly by the kindness and enthusiasm of internet pals turned real life friends. Had I any real money, I might take friends who've opened up their homes to me out to dinner or buy them a nice bottle of wine, but the whole point of my book is how to do all this home-related and general life stuff on a tight budget. When it comes to food money, on the other hand, I'm rich. I have shelves full of seasons we've enjoyed in New York and now in Texas.
As I selected jars from my shelves, I did some guess work on what would mean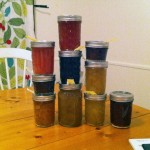 the most to the recipient, and in the case of other canners, I brought something I figured they usually wouldn't make. I brought the sweet spreads team over at Blue Chair Fruit Company - a jar of last year's gingery watermelon rind pickles. I brought my preserving hero, Linda Ziedrich, a jar of Meyer lemon star anise marmalade, since Meyers are never local to her area.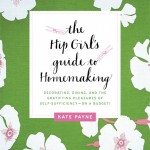 Sure a simple thank you note would suffice, but these people are hosting a party on a weekend day they could've spent relaxing; they're cleaning their floors or doing laundry to prepare for a houseguest; they're being so darn hospitable. The least I can do is stick a jar of kaffir lime blueberry jam or rhubarb hibiscus vanilla preserves in my checked luggage.
BLUEBERRY PLUM BASIL JAM RECIPE
CAA Contributor Kate Payne is the blogger and author behind the book, The Hip Girl's Guide to Homemaking. She lives in Austin, TX and hosts food/jar swaps and invites friends over often to watch and participate in canning adventures. She posts small-batch canning recipes, gluten-free baking projects, DIY cleaning ideas and other creative home improvisations to her blog, The Hip Girl's Guide to Homemaking.